5-5. い-adjectives
5.5.1 Dictionary form
Most of い-adjectives end with a falling pitch.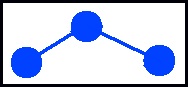 Addition to the polite ending です(desu) does not chang patterns. です(desu) is pronounced L-L. 


There are two accent patterns when an adjective modifies a noun.  
5.5.2 Past tense form
かった(katta) is always pronounced L-L-L.
*English speakers tend to pronounce かった with H-L-L pattern. The tip is to pronounce the "か" with a lower pitch.